The one and only Tplink cpe220
Outdoor wireless connections seem to be a common issue that has been constantly managed but they persist at large. But wifi extenders such as Tplink cpe220 has bridged a lot of gaps between indoor and outdoor wireless connections. Truth be told nobody wants to buy meters of wire just to extend their wifi connections outdoors. The Tplink cpe220 is a profound wireless extender that gives you that high-profile outdoor connection you are looking for. Keep reading to know more about Tplink cpe220 extender setup.
Benefits and features of Tplink cpe220
The Tplink cpe220 is committed to covering and supplying wireless connections to long distances. It has an outdoor speed of 300Mbps. With such speed covering a long distance, you can sit back and enjoy your internet.
High-performance ability in conjunction with user-friendly features for attracting users
While other extenders can support very limited wireless internet devices, tplink cpe220 can support repeaters, routers, client mode, WISP, and WDS mode.
It has an inbuilt 12dBi 2*2 dual-polarized directional MIMO antenna. This allows the slot for multiple users.
Its system has an optimization ability for over 13km long-distance wireless transmission.
Centralized Management System
It has an Adjustable Transmission power. Beginning from 0 to 30dBm by 1000mw
Its Passive PoEAdapter Supports about 60 meters Power over Ethernet deployment. Because of that, the device can reset remotely. 
The tplink cpe220 setup is not difficult. Its features are technically firm but the setup is user-friendly. You dont have to know a lot of technical jargon before you can set up your Tplink cpe220. But before we dive into the setup, it is mandatory that you first connect your tplink cpe extender to the adapter using an Ethernet cable and a computer.
How can you connect your outdoor device?
Note that a wired connection is necessary for this process. The tplink cpe220 comes with two Ethernet ports- LAN0 (PoE) and LAN1(non-PoE)
Begin by connecting the extender's LAN0 port to the PoE passive port on the Adapter, with an Ethernet cable
Then connect another Ethernet cable from the PoE LAN port of the Adapter to the LAN port of your computer
Then plug the PoE adapter into a power socket. After that, turn on the power socket.
After this mini connection is done, it is time to log in to your dashboard to complete the tplink cpe extender setup.
How can I go about my tplink cpe220 login?
Note down the default username and password of the cpe220- "admin" as you will be needing it in this procedure. http://192.168.0.254 is the default IP address you will be using.
On the same computer that is connected to the PoE Adapter, open your updated browser.
In the address bar of your browser, type in the default IP address- http://192.168.0.254 and click on enter.
You will be redirected to login screen. Once it appears, type in "admin" as the default username and password
Click on login
Pick your region/country
Chose your language preference
Next, you have to agree to the terms of service
Log into the pharOS interface
Now you will be required to change the admin default details and personalize it
Click on the "create a new password" option. It is advised that you input a very strong password that you can remember. Or note it down somewhere safe.
Reenter password. Confirm it. Then click on the "apply tab" to save modifications.
After you have finished with your tplink cpe220 login, you can continue your setup by configuring the settings of your tplink extender.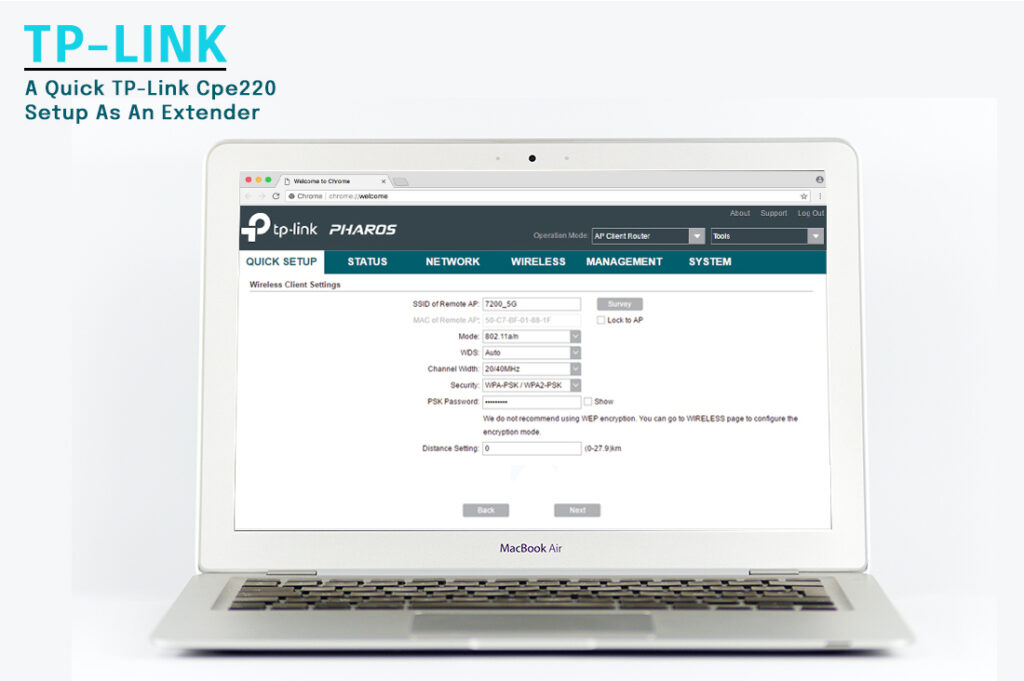 A quick TP-link cpe220 setup as an extender
If you logged out, log in again. Go to "quick setup"
Chose "repeater mode"
You can choose to change the IP address or let it be
Next, you have to change the SSID of your extender
Change the wireless network password too
Next is the "status " page that will display all the changes made. At this point, if you are not satisfied with anything, you can make changes before the next step.
Click on "finish". Wait for changes to be processed and saved. 
That is all for your tp-link cpe setup.